◆出土獣骨洋書:総論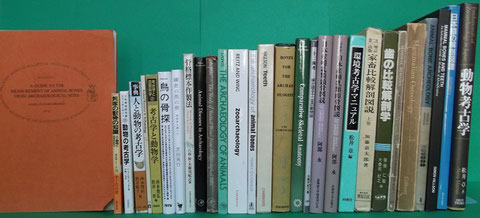 ●出土獣骨洋書:総論
 ここでは、出土獣骨の研究方法について解説されている洋書をご紹介します。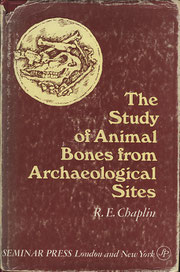 CHAPLIN, Raymond E.
1971年 
『The Study of Animal Bones from Archaeological Sites』 
Seminar Press
1.Structure and Biological Properties of Bone
2.Planning and Organisation of Bone Studies
3.Bone Identification and the Establishment of Reference Collections
4.Techniques for the Study of Site Collections
5.Age Determination from Bones
6.The Use of Measurements
7.The Determination of Sex from Bones
8.Bone Pathology
9.The Interpretation of Bone Evidence
10.Animal Remains as Indicators of Past Environments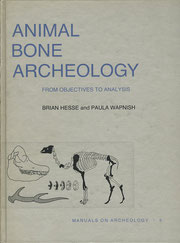 HESSE, Brian & WAPNSH, Paula
1985年 
『Animal Bone Archeology』(獣骨の考古学) 
Taraxacum
1.Introduction
2.Identifying Animal Categories
3.The Nature of a Sample of Bones
4.Nature and Terminology of the Vertebrate Skeleton
5.Collecting, Recordingm and Conserving
6.The Analysis of Single Bone Finds
7.The Analysis of a Taxonomic Category
8.The Analysis of an Assemblage
9.From Objectives to Analysis
*本書は、「出土獣骨の分析方法」の解説書です。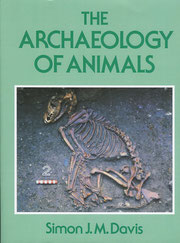 DAVIS, Simon J. M.
1987年 
Yale University Press
1.Methods and problems in zoo-archaeology
2.What are bones and teeth?
3.On reconstructing past environments
4.In what season was a site occupied?
5.Our hunting past
6.From hunter to herder: the origin of domestic animals
7.Later domesticates and the secondary uses of animals
8.Britain: a zoo-archaeological case study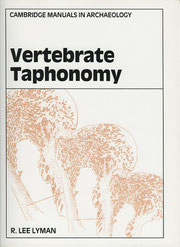 LYMAN, R. Lee
1994年
Cambridge University Press
1.What is taphonomy
2.The history and structure of taphonomy
3.Taphonomy in practice and theory
4.Structure and quantification of vertebrate skeletons
5.Vertebrate mortality, skeletonization, disarticulation, and scattering
6.Accumulation and dispersal of vertebrate remains
7.Frequencies of skeletal parts
8.Butchering, bone fracturing, and bone tools
9.Other biostratinomic factors
10.Burial as a taphpnomic process
                         11.Diagenesis
                         12.Taphonomy of fish, birds, reptiles and                                                                                  amphibians  
                         13.Discussion and conclusions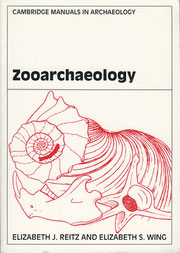 REITZ, Elizabeth J & WING, Elizabeth S.
1999年
Cambridge Uiversity Press
1.Zooarchaeology
2.Zooarchaeological history and theory
3.Basic biology
4.Ecology
5.Disposal of faunal remains and sample recovery
6.Gathering primary data
7.Secondary data
8.Humans as predators: subsistence strategies and other uses of animals
9.Control of animals through domestication
10.Evidences for past environmental conditions
11.Conclusions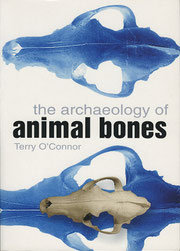 O'CONNOR, Terry
2000年
『The Archaeology of Animal Bones』
Sutton Publishing
1.Why study a lot of old bones?
2.Bone, bones and skeletons
3.Taphpnomy: from life to death and beyond
4.Escavation and recovery
5.Identification and description
6.Counting bones and quantifying taxa
7.Out on a limb: body-part quantification
8.Estimation of age at death
9.Palaeopathology: understanding sickness and injury
10.Metrical and non-metrical variation
11.Climate, environment and small vertebrates
                         12.Hunting and fishing: people as predators
                         13.Setting down: the domestication of animals and
                                                  people                                                                                                                                                     
                         14.Urban garbage: on drovers, butchers, wealth and
                                                  rats
                         15.More than just old bones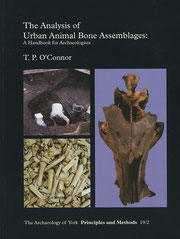 O'CONNOR, T. P.
2003年
『The Analysis of Urban Animal Bone Assemblages』
Council for British Archaeology
・Introduction
・Research design
・What are all these bones doing here?
・Sampling and recovery
・Identification and recording
・What were all those bones doing there?
・Quantifying taxa and body parts
・Husbandary decisions: age at death
・Variations: the effects of genes and environment
・Palaeopathology
・Wildlife and environment
・On dealing with large sites
                         ・On dealing with very small sites
                         ・Whither old bones?